Since reading Ann Radcliffe's Mysteries of Udolpho many years ago I have been addicted to the Gothic and other fiction of the late eighteenth and early nineteenth centuries. I am not, and never have been a student of English literature, I don't even have an A level, but of course I'm sure that shows though immediately.

So I come to these works, not as a scholar with a background in literary theory and criticism, but as a wide eyed reader, approaching them in the same way that our great great grandmothers would have done 200 years ago and looking for the same excitement, escapism and adventure.

I blog about the books I read, the ideas that come to me as a result of my reading and then I mix in elements of my other interests in music, film and history along the way.

i make no apologies for any naivety in my thoughts, most posts are written on the spur of the moment in time, trying to reflect my enjoyment of the novels I read, squeezed in between the pressures of keeping home and of work. So take me as you find me, I welcome you to leave comments whether to correct me, to instruct me or just to share in my world.
Sad (or pleased) to say - The Gothic Heroine has packed her bags and her books and wandered off to wordpress
Maybe there's nothing new there quite yet - but hopefully there soon will be.
I shall of course try to keep up with all the friends I've made here, I am, after all, only just down the street
http://gothicheroine.wordpress.com/
So Livejournal, it's been lovely knowing you, but all things change and move on, and so have I.
Electronic texts, kindles and i-pads may be a suitable medium for dreary academic texts, for science fiction or for news; but romances lose their romance when reduced to mechanical strings of bits and bytes. How can one share the thrills of our Amelias and Emilys; respond to the terrors of their adventures or feel the warmth of their final reconciliation with the hero at the end of volume 3 when this is transmitted through a USB or flickering plastic page.
Romances are meant to be read half bound, octavo in three volumes, if only that when our parents finally despair of our ever seeing sense then at least our dearest treasures may find a fitting, dramatic and satisfying conclusion.
... No such thing,' cried he. ' The kiss was too much of a smacker for that : it rang through the pantry. But please the fates, she shall never darken my doors again. I have just discharged both herself and her swain ;
…and what is better, I have ordered all the novels in the house to be burnt, by way of purification. As they love to talk of flames, I suppose they will like to feel them.' He spoke, and ran raging out of the room.
Adieu, then, ye dear romances, adieu for ever. No more shall I sympathize with your heroines, while they faint, and blush, and weep, through four half -bound octavos. Adieu ye Edwins, Edgars, and Edmunds ; ye Selinas, Evelinas, Malvinas ; ye inas all adieu I The flames will consume you all. The melody of Emily, the prattle of Annette, and the hoarseness of Ugo, all will be confounded in one indis- criminate crackle. The Casa and Castello will blaze with equal fury ; nor will the virtue of Pamela aught avail to save ; nor Wolmar delighting to see his wife in a swoon ; nor Werter shelling peas and reading Homer, nor Charlotte cutting bread and butter for the children.
The Heroine – Eaton Stannard Barrett

"IT is very strange," said uncle Ralph, with evident impatience and vexation, as he threw down on the table with great force a romance of the last century, "that a writer must use so many words, only to tell us, that a woman got up and sat down again! No, they must inform us in high-flown, poetic language, that she rose from her mossy couch, and then thoughtfully reseated herself, and resumed her pensive posture! and then, if the wind happened to blow her thin clothes about, and made her ribbons flutter and fly, we must be entertained through half a page with her silken scarf floating in the wind and the rude zephyr discomposing her light and nymph-like attire!"
....
"Come, come," said Ralph, "a truce to novels, newspapers, and fables of every kind: here," continued he, "I will set an example;" and at the same time he threw the volume, whose enthusiastic expressions had so much displeased him, into the fire.
....
WHILE the three brothers were viewing the blazing novel, Margaret, the youngest Miss Marsham, entered the parlour, and looking first at the table where she had left her book, and next at the grate, from whence a part of the boarded cover had just fallen, she uttered the exclamation of "O heavens! what sacrilegious hand has destroyed the recreative amusement of my leisure-hours, and impeded my itineration through the delightful labyrinths of imagination
....
The Reverend Mr. Marsham looked at his daughter with serious concern, and shook his head: "But what," continued Margaret, "my ever revered, though too rigid parent, am I to do? there are seven volumes of that delightful work; and the set is spoiled by the fatal destruction of one; the whole seven must be paid for."
Romance Readers and Romance Writers – Sarah Green

No - save the eBook for the mundane, every heroine deserves a moment of secret pleasure drawn from the dusty musty volumes of the circulating library, or this is what we should become:

"Dear creature! How much I am obliged to you; and when you have finished Udolpho, we will download the Italian and share it together. See I have made out a list of ten or twelve more of the same kind for you."
"Have you, indeed! How glad I am! What are they all?"
"I will send you their names directly; here they are, on my Blackberry, I shall forward the list to you immediately, and then if I copy them to my pen drive I can give you a copy. They should really last us some time."
"Yes,; but are they all horrid, are you sure they are all horrid?"
"Yes, quite sure; for a particular friend of mine, a Miss Andrews, a sweet girl, one of the sweetest creatures in the world, has blogged about every one of them. I wish you knew Miss Andrews, you would be delighted with her. She is webmaster at udolpho.com and is always in the chat room if you'd care to log in. I think her as beautiful as an angel, and I am so vexed with the men for not facebooking her! I scold them all amazingly about it."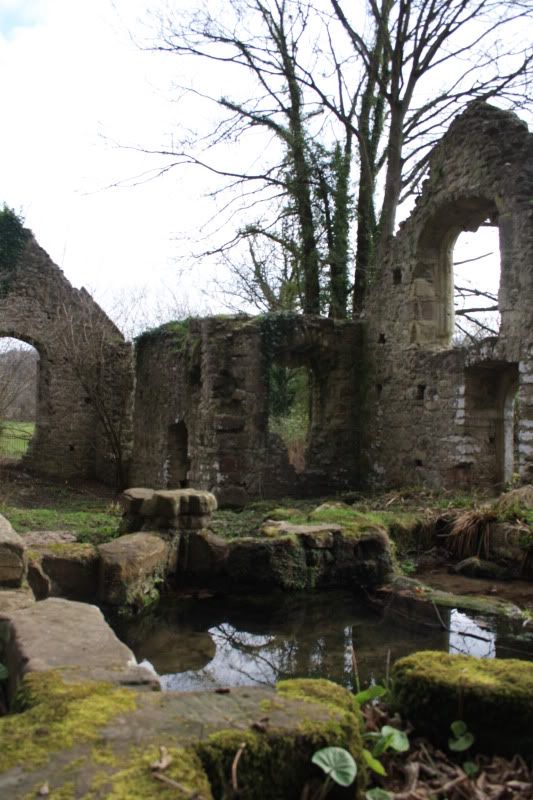 The well, its star shaped basin built probably in the fifteenth century, follows a style very similar to that used for the renovation of St Winefride's Well at Holywell some twenty miles further north at athe same time, possibly financed by lady margaret Beaufort, mother of Henry VII.
In the quiet backwaters of Wales, away from the political strife in London, people tried to cling to their beliefs. Sickness wasn't reformed and wells continued to offer sought for cures against a number of illnesses.
The well chapel at Cefn Meiriadog was ruined during the reign of Henry VIII, but remained a consecrated site for catholics in the area, and for over 100 yeats after, until the mid 17th century, clandestine marriages were celebrated here, a local Welsh Gretna Green.
The site was maintained and renovated during the 18th and 19th centuries by local landowners as a part of the landscape gardening craze which prized romantic and isolated ruins.
Poet Felicia Hemans (1793-1835), mainly known now for her poem Casabianca, (The boy stood on the burning deck...) spent her youth living close to the new City of St Asaph and would have visited the well around this time. She wrote her ode Our Lady's Well in its honour.
FOUNT of the woods! thou art hid no more
From heaven's clear eye, as in time of yore.
For the roof hath sunk from thy mossy walls,
And the sun's free glance on thy slumber falls;
And the dim tree shadows across thee pass,
As the boughs are swayed o'er thy silvery glass;
And the reddening leaves to thy breast are blown,
When the autumn wind hath a stormy tone;
And thy bubbles rise to the flashing rain,—
Bright fount! thou art nature's own again!
Fount of the vale! thou art sought no more
By the pilgrim's foot, as in time of yore,
When he came from afar, his beads to tell,
And to chant his hymn at Our Lady's Well.
There is heard no Ave through thy bowers,
Thou art gleaming lone midst thy water flowers!
But the herd may drink from thy gushing wave,
And there may the reaper his forehead lave,
And the woodman seeks thee not in vain,—
Bright fount! thou art nature's own again!


Fount of the virgin's ruined shrine!
A voice that speaks of the past is thine!
It mingles the tone of a thoughtful sigh
With the notes that ring through the laughing sky;
Midst the mirthful song of the summer bird,
And the sound of the breeze, it will yet be heard!—
Why is it that thus we may gaze on thee,
To the brilliant sunshine sparkling free?
'T is that all on earth is of Time's domain,—
He hath made thee nature's own again!
Fount of the chapel with ages gray!
Thou art springing freshly amidst decay;
Thy rites are closed and thy cross lies low,
And the changeful hours breathe o'er thee now.
Yet if at thine altar one holy thought
In man's deep spirit of old hath wrought;
If peace to the mourner hath here been given,
Or prayer from a chastened heart to Heaven,—
Be the spot still hallowed while Time shall reign,
Who hath made thee nature's own again!



all photos taken for The Gothic Heroine, March 2012
More at http://wellhopper.wordpress.com/2012/02/26/ffynnon-fair-st-marys-well-cefn-meiriadog/
St Mary's Well at Cefn Meiriadog is amongst my favourite sistes to visit. A Holy Well, in medieval times a major site of pilgrimage, it was destoyed during the Reformation. At the time Henry VIII ordered the closure of the monasteries wells such as St Mary's across Wales were broken up to attempt to end the cult of Holy and Healing Wells that were prevalent across Wales and much of the UK at the time.
Currently on page 700 of 1200, I hope to finish by the end of the month.
Published in 1985, the Quincunx is a pastiche of the great nineteenth century novel, out-dickensing Dickens with its wealth of characters and out-collinsing Collins with its complexity of plot It makes the train journeys morning and evening fly by, so is well recommended.
It does mean, however, that my trawl through the muddier realms of the gothic is suffering. Hopefully in April normal reading will be resumed.
I have also been spending quite a while researching and visiting locations for my Welsh Wells blog
http://wellhopper.wordpress.com/
I leave you with an angel I found in Gresford churchyard whilst tracking down yet another well.
oh I am still here, just to let you know. I realise I have been very quiet lately, mainly because I am enthralled in Charles Palliser's The Quincunx, a massive beast of a book that is taking all of my time to get through.


So whatever she is playing today, and early extracts from her new Fight Like A Girl album seem to indicate she is straying down the road of rather formulaic music theatre, we never need forget the violin skills of Emilie Autumn. This video seems to date from the early years of the 21st century as she plays an instrumental version of her song Rose Red



A little music from the archive for this Saturday morning
Tom-All-Alone's is a new novel by Lynn Shepherd, author of Murder at Mansfield Park. It is the latest contribution to that growing genre that takes characters from a classic novel and plunges them into a new murder mystery plot. Tom-All-Alone's is neither a prequel nor a sequel, we need a new word to represent a parallel-quel.
In Tom All-Alone's Lynn Shepherd effectively gives us two detective novels in one. We join the hunt for the murderer stalking the back streets of Dickensian London and, at the same time, play literary detective in spotting the links and references to bleak House and The woman in White and identify many other quotations liberally thrown in to tease us.
When we divorce the novel and its plot from its literary associations it stands on its own as an enthralling mystery. Lynn Shepherd takes us deep into the Victorian London underground, sparing us none of the horrors of the living conditions of the majority of its inhabitants, in scenes that bring its everyday squalor into vivid Technicolor life. She does this, however, with a knowing eye, so much like the director's commentary on a film, she leads us through her novel from the outside, putting a twenty first century spin on nineteenth century events. May be because the novel deals with very modern preoccupations requires this; but it also offers her shortcuts. Rather than dissecting and describing a person's traits in detail to enable us to judge them, she is able to say, for example "if he were alive today we would consider him a geek", immediately cutting through several paragraphs of Victorian description to give us an identity to which we can readily relate.
Her detective Maddox is certainly a character we warm to, a Sherlock Holmes wannabe, who hasn't quite made it, but makes up for his occasional failings of knowledge and reasoning by leaping in as the all action hero. There are times when we will him to hold back, as he ventures out at night, Sarah Lund like, into dark, foggy alleyways. It is a credit to the novel that we come to care about him sufficiently to be relieved when he emerges from his adventures with at least the majority of his limbs intact.
Behind it all runs the parallel world of Bleak House. This becomes both a blessing and a curse. It provides the author with shortcuts – there are characters she need not describe in detail, since we already know them intimately. This enables her to maintain the pace of the novel as complex new characters are introduced. At the same time however it prevents us from worrying about the long term threat of Tulkinghorn, as we know, ahead of both Maddox and the narrator that eventually he will end up with a bullet through his heart, a bullet shot by a character that merits a little more than an off screen altercation in this novel.
Still, the great joy of the novel is the manner in which she introduces in throw away lines some of the classic Bleak House episodes. Such as the scene in which Maddox arrives at Tulkinghorn's office passing "a little group of people in the hallway, gathered around a wizened and vociferous old man in a chair, and a black skull cap." This is all it needs to bring to mind the confrontation between Tulkinghorn and Smallweed, which we know has just taken place. All of this creates a third level to the novel. At the bottom is Maddox, experiencing it at first hand, above him the narrator's all seeing eye that describes and explains it all, and then above that, our god-like viewpoint that can see beyond that of the narrator, into the future and into the past. It is only in this form of fiction that we can ever be given such power, and a strength of the novel, and its style, that gives us input on so many levels.
Maybe there are just some times when we know too much. Has she really moved Chesney Wold, brick by dreary brick, from Lincolnshire to North London, or has she just appropriated its Ghost Walk for her Solitary House. What are the links between those mysterious neighbouring Rag and Bottle shop keepers Krook and Cook, one of whom spontaneously combusts, the other burns in a much more sinister though mundane fashion?
Since death and detectives have recently moved in wholesale on our literary classics, Bleak House on the outset seems a strange choice, it already deals with this topic quite successfully. However in this case I feel the additional layers introduced by Lynn Shepherd succeed. Her detective's interaction with the great Inspector Bucket is seamless as Bucket investigates his murder in parallel with elements of Maddox's cases. Of course we may wonder how far Maddox would have succeeded in his relationship with the surly detective without the influence of his illustrious relative from the Austen era.
The novel is clearly well researched and takes us deeper into the seedier sides of London than Dickens was able, or maybe needed, to for his contemporary audience. A highly entertaining mystery is augmented by the ongoing puzzles set the reader in spotting scenes and quotations; a novel and plot that certainly can stand up for itself is enhanced by its literary background, although whether someone not familiar with the supporting novels may sometimes feel that they're in the middle of a group joke that's passing them by. In essence, I'm really not a fan of fan fiction, but of this genre Tom-All-Alone's stands above the mass and sets a shining example to them all.
Tom All Alone's by Lynn Shepherd (2012) is published by Corsair.
I have in my possession many more Poems attempted at the early ages of sixteen and seventeen, but do not presume to intrude more of them upon the liberality of my readers

Charlotte Dacre in her collection of poetry - Hours of Solitude (1805)

Oh if only others followed this noble example
But probably more about that in a future post, I haven't got beyond the cover just yet; but it#s really the cover that set off this train of thought. As I said, it's rare that I buy a new book, so I rarely notice how striking and fascinating the covers of new books are - I'm sure its all about marketing, publishers have to grab your attention in Waterstones or Tesco, and books have to scream "read me" as you walk past.
And then the last new book I bought too, Essie Fox's The Somnambulist, was equally striking - it still stands on the bookshelf - a bright pink beacon in a sea of gloomy paperbacks - Oxford classics, World Books and Penguins.
Gone appear to be the paper dust jackets - so beloved of the second hand book sellers.
"Oh the dust jacket has a tear in the back, that's £20 off the valuer before you even look at it!"
So times seem to be a changing in the publishing world, as I sit in my little eighteenth century gothic haven, three volumes, leather bound, any colour that you like as long as it's calfskin.
But - here's my big finish.
All of this takes me back to my one stand out book, and this is the real odd one that makes your perseverance this far almost worthwhile.
James Webb's The Flight From Reason was supposed to be a two part investigation of the history of the occult in Britain. Part 1 - The Age of the Irrational covers the period up to the end of the Victorian era. Apart from being a fascinating read, it has an incredible foil like dark red cover. I used to live in an isolated house halfway up a hillside. Driving home on dark evenings the car headlights would shine in through the sitting room window and this book would shine back in the reflected light like a little red cats eye. I'm sure I had other books with foil covers but it was always this one glowing ominously red.
These days it lives on a bookshelf on quite a dark little landing half way up the stairs, but it still catches the light, even now when I went to find it, not having looked at it for years, it stood out.
As I say, I have other foil books, but only this one, this little occult history classic has the power of a cover that in many ways so devilishly reflects on its content.
For the amount that I read, it isn't that often I buy a new book. Today was one of those rare exceptions when I bought a copy of Lynn Shepherd's Tom-All-Alone's. Published just last week, it is, apparently, a murder mystery that takes the characters and settings of Dickens' Bleak House as a jumping off point.
The Nocturnal Minstrel was published by Minerva in 1810, demonstrating that Eleanor Sleath was clinging on to the gothic memes and traditions at a time when many others were finally abandoning them. This short, two volume novel, however, does not read like a last desparate attempt to cling to a dying style, it is fresh and inventive, and apart from the overdrawn happy endings, maintains a high degree of mystery ands suspense. Apparently the gothic scholar D P Varma consider this to be Sleath's best work, "both poetic and atmospheric, possessing a talismanic power."
The novel revolves around the newly widowed Baroness Gertrude who becomes a gothic heroine whose fate we can become intensely involved in and whose fortitude we can admire throughout the novel.
Widowed at 25, she is left to rule over her husband's remote Cumbria castle in the early part of the reign of Henry VII. Away from her family, and with very little society, her daily contacts are with the motley crew of the castle. A cruel and domineering head maid Winifred, who sets herself up as Gertrude's chief confidante, whilst conspiring against her in the background, Motley the fool, a clown drawn straight from Shakespeare, with a ready turn of wit and never a straight answer. As often the fool is the most intelligent character in the castle. The faithful servants brave Edgar and bullied Ethelind provide the additional romantic interludes of the book.
There are also the range of suitors, eager for both Gertrude's hand and her lands. Sir Reginald, the upper class twit, endlessly fawning around the baroness with poetry and music, ineffectual in pursuing his suit, and eventually to become the unexpected villain of the piece, and Earl Ormond, old enough to be her father, although he is actually promoted by her father as a suitable match, politically and financially rather than romantically. Her father in fact orders her to marry asserting that "he most certainly has a right to command", to which Mrs Sleath, perhaps with a fleeting glance of an emerging feminism comments "language like this may seem harsh to the idea of a modern female, yet it seemed not so in ancient times of feudal authority". It is perhaps encouraging that the Earl, on seeing Gertrude's reluctance to accept her father's commands is sensitive and realistic enough not to pursue his suit and almost to become the father figure that her real father never seems to offer.
From the outset of chapter 1 we are left in no doubt that it is the various hauntings of the castle that will drive the plot. From the Nocturnal Minstrel of the title, playing music in the woods outside Gertrude's window each evening, the crashing and banging noises heard from the dead Baron's chamber, echoing voices heard within the castle walls and eventually the armour clad ghost that appears first to reprimand Gertrude for rejecting Sir Reginald and later to cause the disappearance of the Earl. It is in this area that the full force of the gothic armoury is drawn out, from Otranto onwards we have it all.. The brave servant and the Earl who keep nightly watch in the haunted chamber only to have vanished by the morning, I was trying to spot the references, where have I read this scene before, on so many occasions.
Still, to her merit, Mrs Sleath restricted herself to two volumes, and in these volumes she presents a good story, well told. Additional volumes would have only presented unnecessary additional padding, indeed even in this case one and a half volumes was probably quite sufficient. Gertrude presents us with an admirable heroine, a little older and maybe a little wiser than many of the Emilys, the Laurettas and the Matildas of earlier novels, and her position as the head of an incongruous household, trying to keep control as the horrors enfold shows off all her strengths and weaknesses. Certainly Gertrude has joined the ranks of my favourite gothic heroines, a character I can relate to on so many levels.
January reading list
Anon – Ashton Priory (Minerva 1792)
Jane Harvey – Anything But What You Expect (Henry Mozley, Derby 1819)
Eleanor Sleath – The Nocturnal Minstrel (Minerva, 1810)